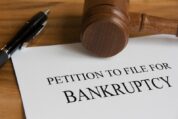 Bankruptcy Assistance in Lake Wales
Chapter 7 Bankruptcy Attorneys – Chapter 13 Bankruptcy Lawyers
If you are receiving harassing phone calls from creditors, foreclosure notices, or are simply losing control of your finances, we can help..  Most often bankruptcy clients tell me that they are worried to the point of losing sleep.  What is needed is a plan, and planning requires knowing your options.  I can tell you what your options are so that you can make your plans to fix your debt problems.  Your options include relief under the bankruptcy code.
Our Lake Wales, Florida, law firm can assist clients with the following:
Chapter 7 Bankruptcy.  Also known as "straight bankruptcy" or "liquidating bankruptcy", Chapter 7 is the most common form of bankruptcy.  Chapter 7 offers debt relief by discharging all eligible debt.  Some debts such as certain taxes and student loans are not eligible for discharge.  Certain income limitations apply to be able to file a Chapter 7 case.  If you cannot file a Chapter 7 case, you may be able to file a Chapter 13 case.
Chapter 13 Bankruptcy.   This form of bankruptcy is known as a wage earner's repayment plan.  Chapter 13 allows debtors to reorganize debt into an affordable plan.  A Chapter 13 plan can help you keep your home if you temporarily fell behind in your mortgage payments but are now able to keep the payments current and "catch up" the delinquency during the term of the Chapter 13 plan.
Quality Florida Bankruptcy Assistance
I am an experienced and knowledgeable florida bankruptcy lawyer regarding the different chapters of bankruptcy and their rules and regulations.  I will meet with you personally to evaluate your income, expenses, assets, debts, and all other relevant issues.  Through a comprehensive assessment, the type of bankruptcy that best fits your situation will be determined.  Further, my assistants and paralegals are available to respond to questions as needed.  If you chose to file for bankruptcy, we will take you step-by-step through filing to discharge.
If you have decided that it is time to get out from under the burden of debts, we can help you.  As a bankruptcy lawyer, I will assist you in finding closure for your financial problems and guide you in making a fresh start.  You can begin the process today by contacting me here through our bankruptcy attorney link to our e-mail.  There is no charge for your initial consultation. You can begin the process today by contacting our bankruptcy attorney.
We are a debt relief agency. We help people file for bankruptcy relief under the Bankruptcy Code.